The Eastsider kicks off a monthly look at homes sales and prices. The figures above for June 2009 are collected from
DataQuick
and presented in a zip code format by the
Los Angeles Times.
The chart tracks completed sales of detached homes (not condominiums) and the change in the
median sales
price.
The most expensive neighborhoods in Silver Lake (90039) were the only ones to show an increase in price compared to June of last year. In fact, bidding wars are breaking out over homes in choice Silver Lake neighborhoods, including one Brier Avenue property that received five offers before the first open house.
* * *

R

eal estate agents
Dan Ortega
and
Matt Morgus
provide
some observations about conditions in Silver Lake and other nearby neighborhoods this month. While foreclosures are dragging down prices in Silver Lake and Echo Park neighborhoods south of Sunset Boulevard closer to the 101 Freeway, it's a different story on the north end of Silver Lake. Here, young families are targeting houses near the well regarded Ivanhoe Elementary School. "They will pay extra money to have the option to send their kids there," said Morgus.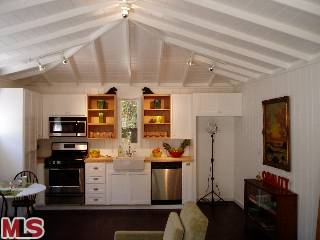 Buyers who were once priced out of Silver Lake are pouncing on bargain properties in 90039, including a $399,000 Brier Avenue house (pictured) that held its first open house on Sunday. The house, which was rehabbed, is only about 1,000 square feet and sits on a small lot. But it's within walking distance to stores and restaurants on Glendale Boulevard, including Gingergrass and Silver Lake Wine Company, as well as the soon-to-open Silver Lake library. "People were making offers and had not even seen the inside," said Ortega.
House Pick*
: Morgus recommended a foreclosure in Eagle Rock, a three bedroom, two-bathroom Craftsman-style house with a pool on a 7,500-square-foot lot north of Colorado. The house, 5233 Like Oak Avenue, is priced at $399,000.



Related story:


* Southern California median home price surges in June. LA Times


* Neither agent or their companies are involved in the sale of the property.

Photo from themls.com